The Ballinalack Project is a joint venture between Group Eleven (60% interest) and Shenzhen Zhongjin Lingnan Nonfemet Company Limited ("Nonfemet," 40% interest), one of the largest zinc producers in China. The project consists of five (5) prospecting licenses covering over 170 square kilometres and is located in north-central Ireland, approximately 50km west from the currently producing Tara (Navan) Zinc-Lead Mine (owned by Boliden AB).
Ballinalack Project – Regional Location Map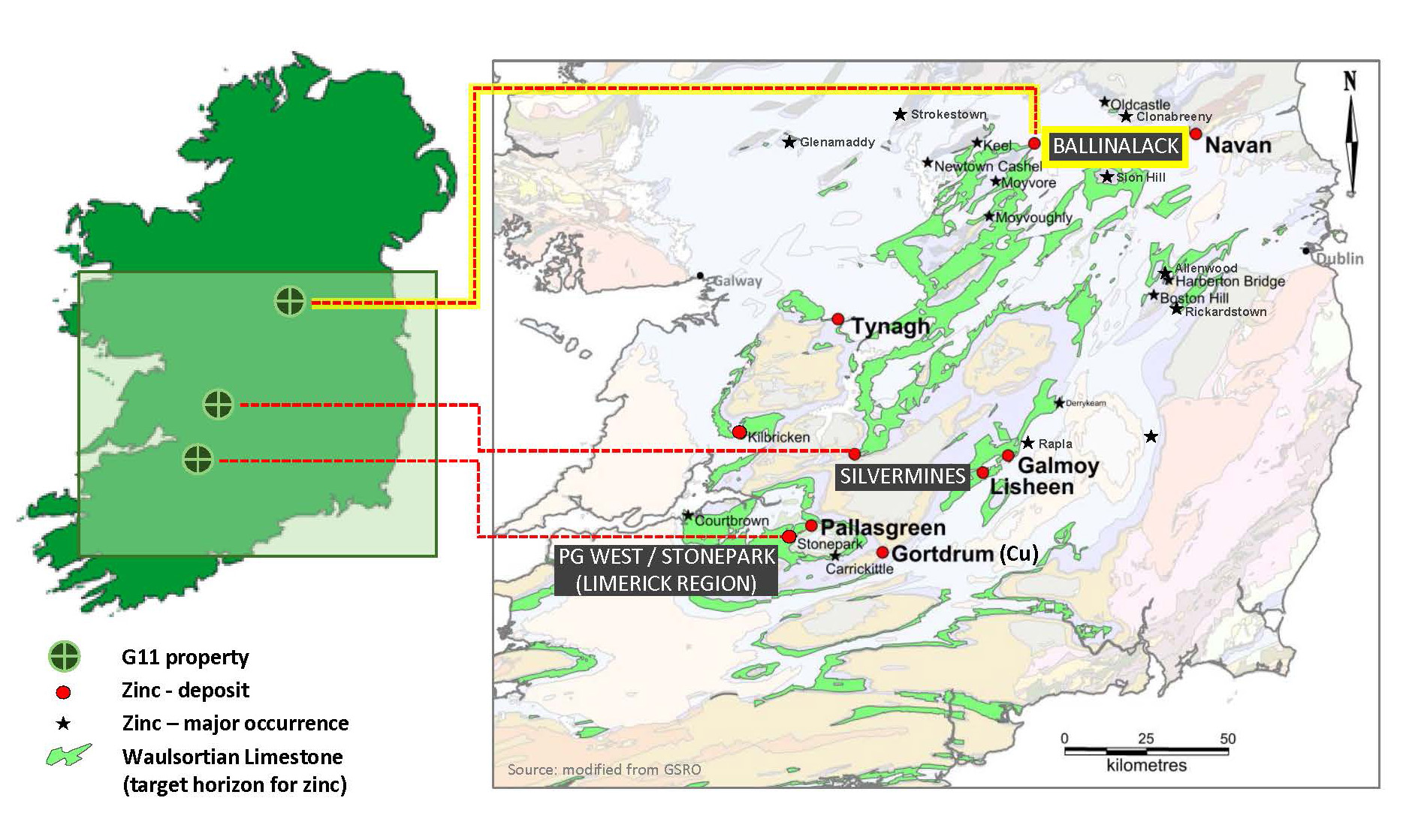 Ballinalack Project – Property Location Map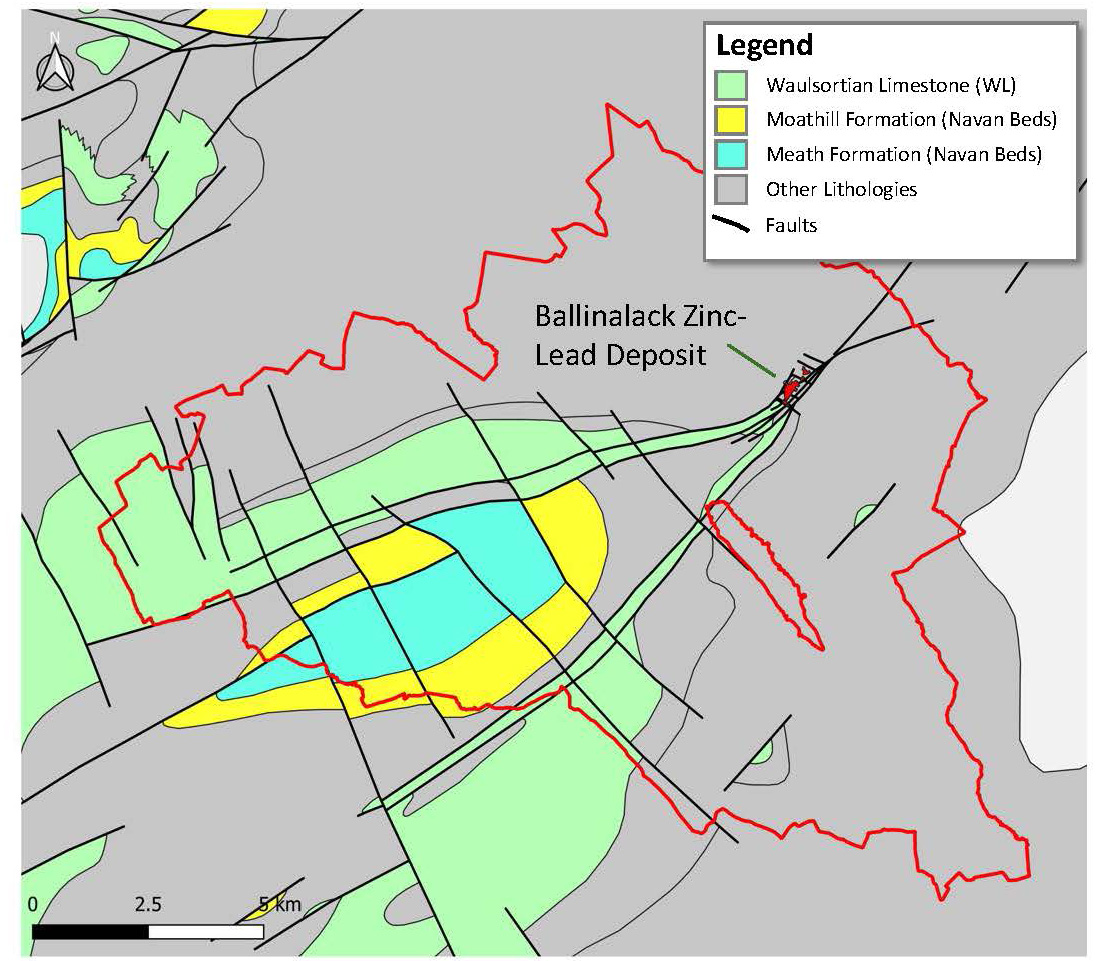 The Ballinalack Project hosts a MRE (Mineral Resource Estimate) totalling 5.4 million tonnes grading 8.7% Zn+Pb combined (7.6% zinc and 1.1% lead) and 9.0 g/t silver. The resource estimate was prepared by CSA Global (UK) Ltd. ("CSA Global") under contract to SLR Environmental Consulting (Ireland) Ltd. ("SLR"; dated January 11, 2019) and was based upon Group Eleven's 2018 drill program, as well as, historic drilling from the 1970s onwards.
After preliminary exploration by the Company over the last few years, future exploration at Ballinalack is likely to focus on two key areas: (1) Pale Bed horizon on the footwall of the Ballinalack fault adjacent to the existing resource (see zinc targets 1, 2 and 3 on the map below); and (2) the Ballycorkey prospect located southwest along trend from the Ballinalack deposit (see below).
Ballinalack Project – Exploration Upside Near Existing Deposit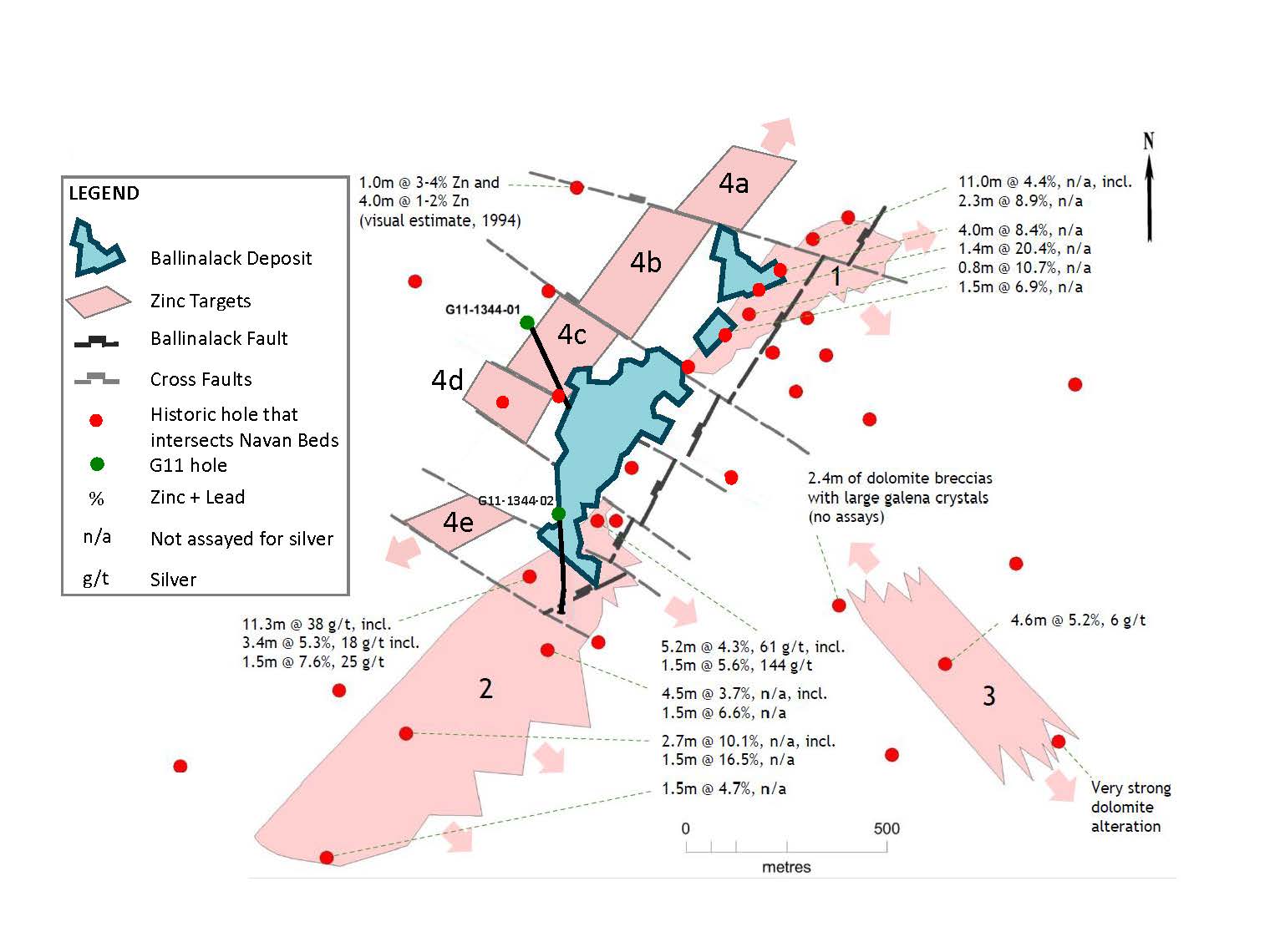 Ballinalack Project – Location of Ballycorkey Prospect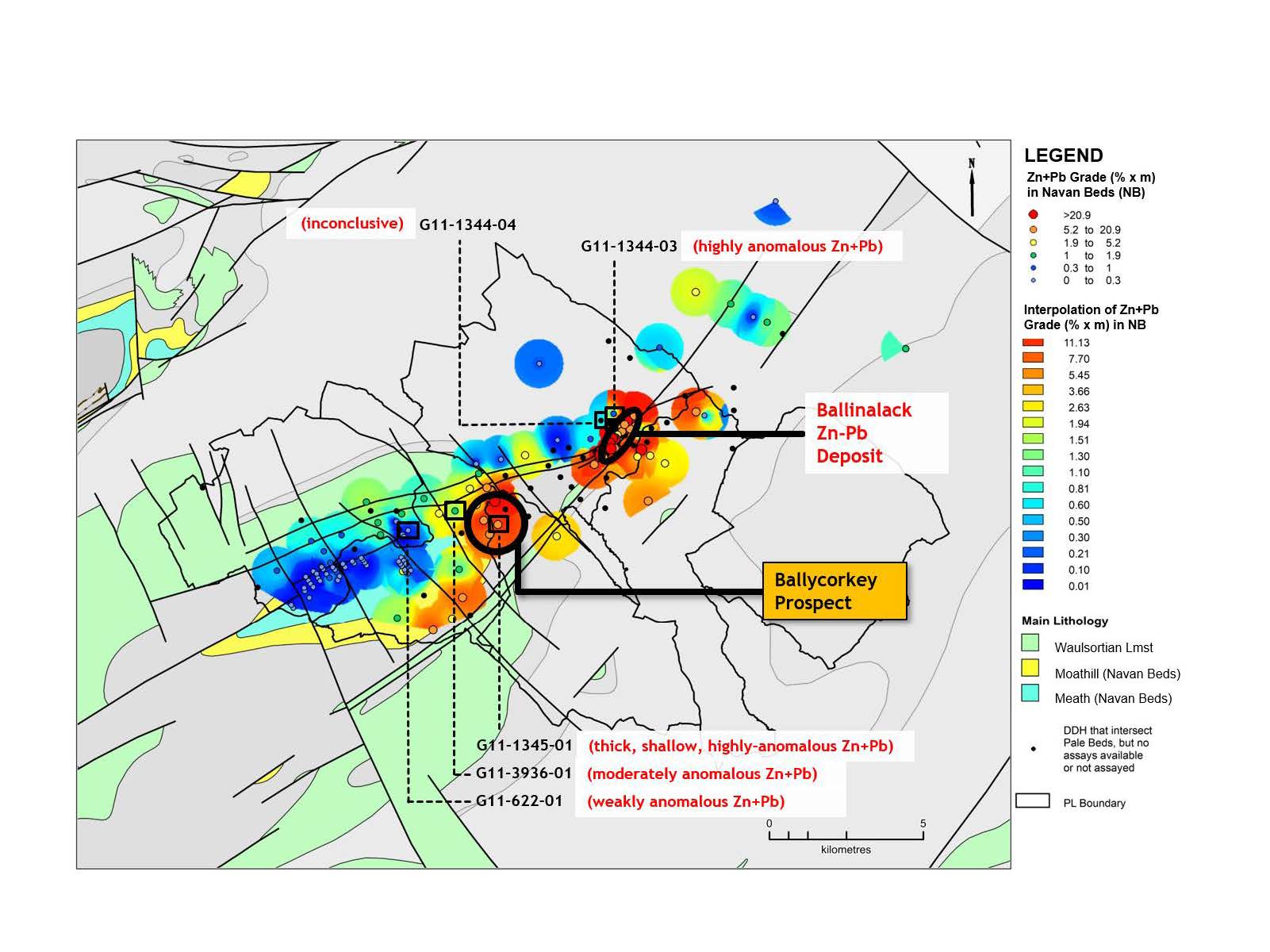 Note: Heat map colours above relate to historic drill holes.
Ballinalack Project – Ballycorkey Prospect (Target Area)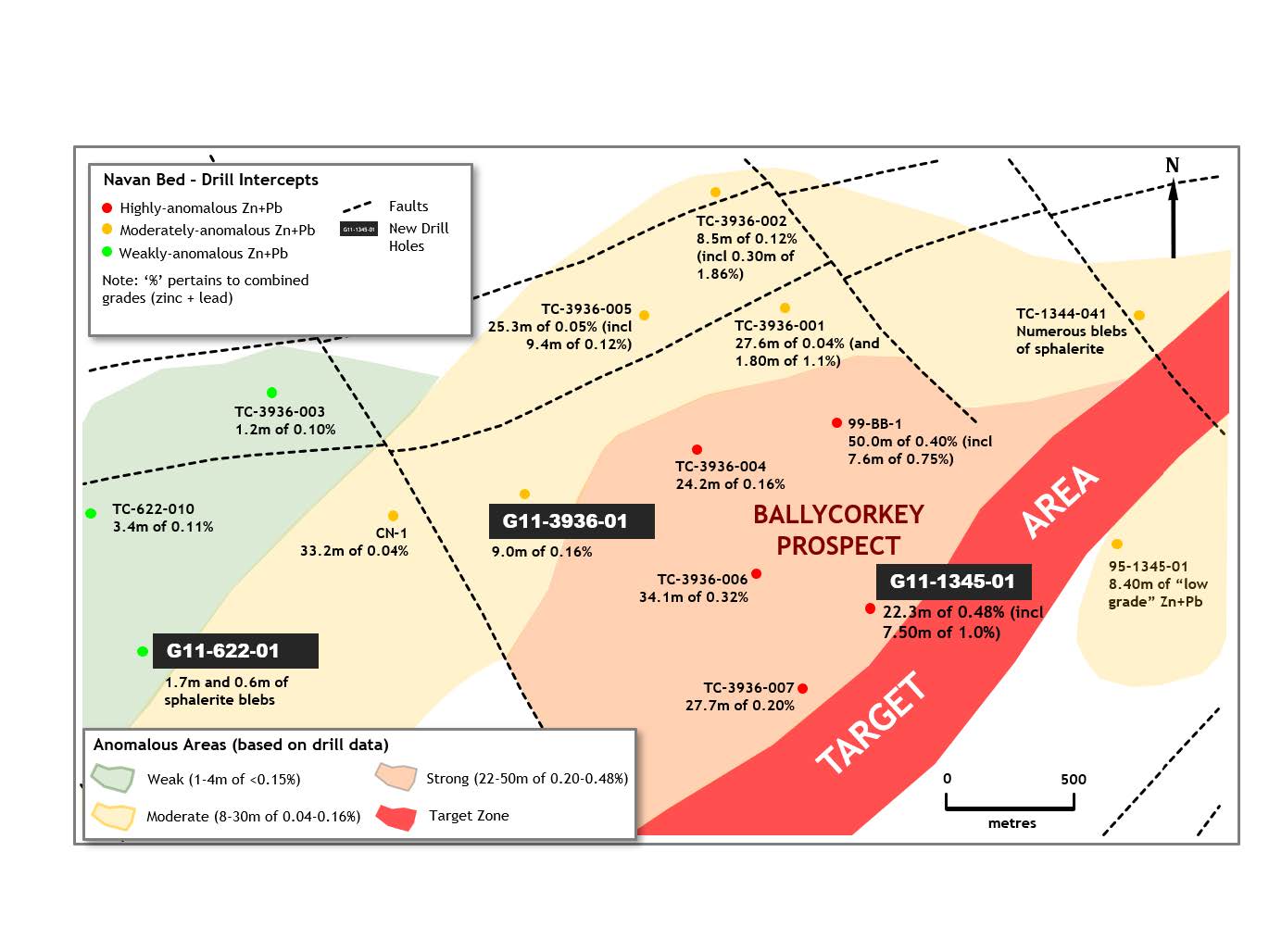 3D Model Of Ballinalack Project Overview
Technical information in this website has been approved by Professor Garth Earls, Eur Geol, P.Geo, FSEG, geological consultant at IGS (International Geoscience Services) Limited, and independent 'Qualified Person' as defined under Canadian National Instrument 43-101.