The Stonepark Project is located in southwestern Ireland and represents a joint venture between Group Eleven (76.56% interest) and Arkle Resources plc (23.44% interest), consisting of six (6) prospecting licenses covering an area of 184 square kilometres (see below in brown outline). The Stonepark Project is contiguous to the Company's PG West Project.
Stonepark Project – Regional Location Map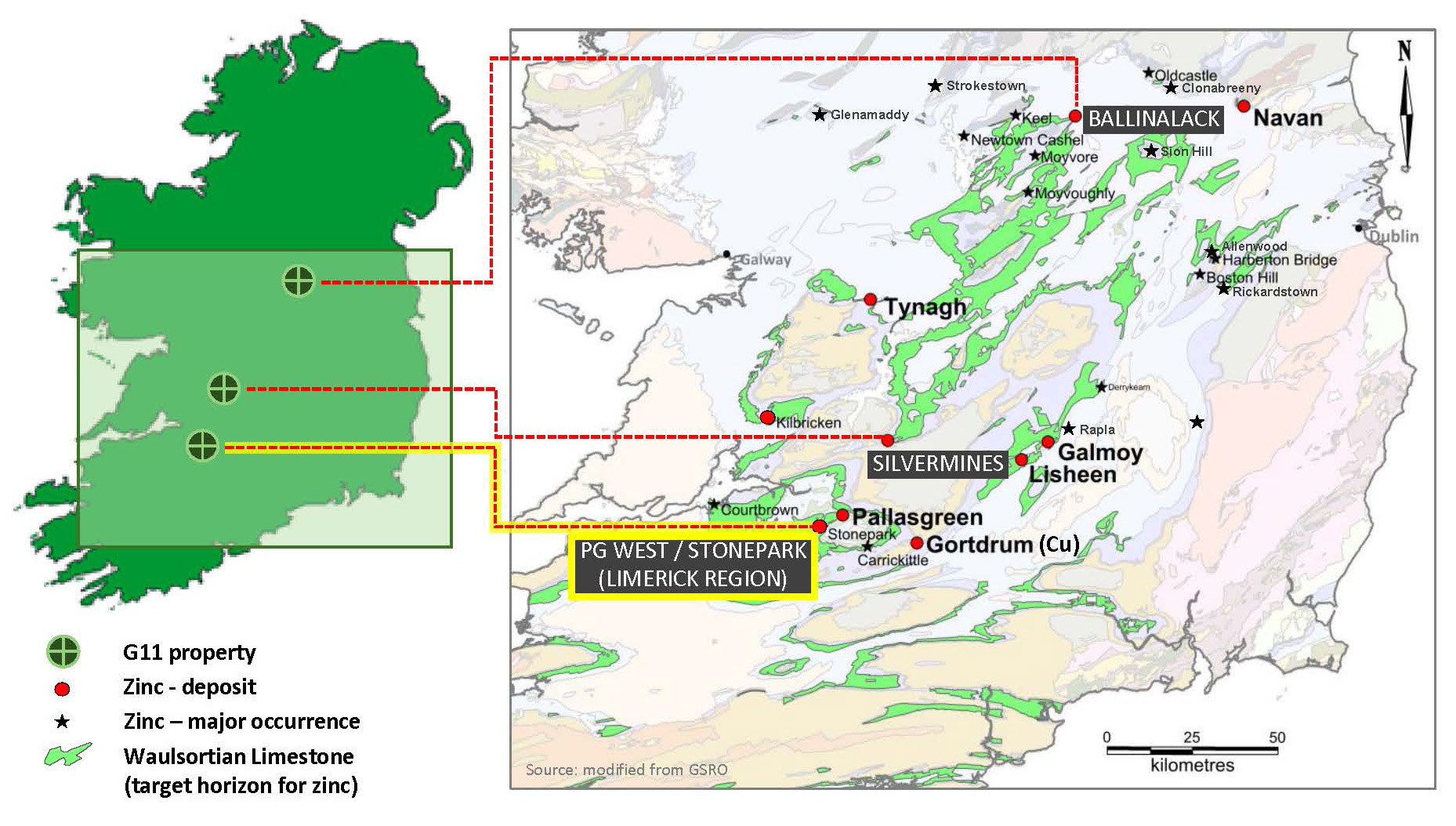 Stonepark Project – Limerick Region Location Map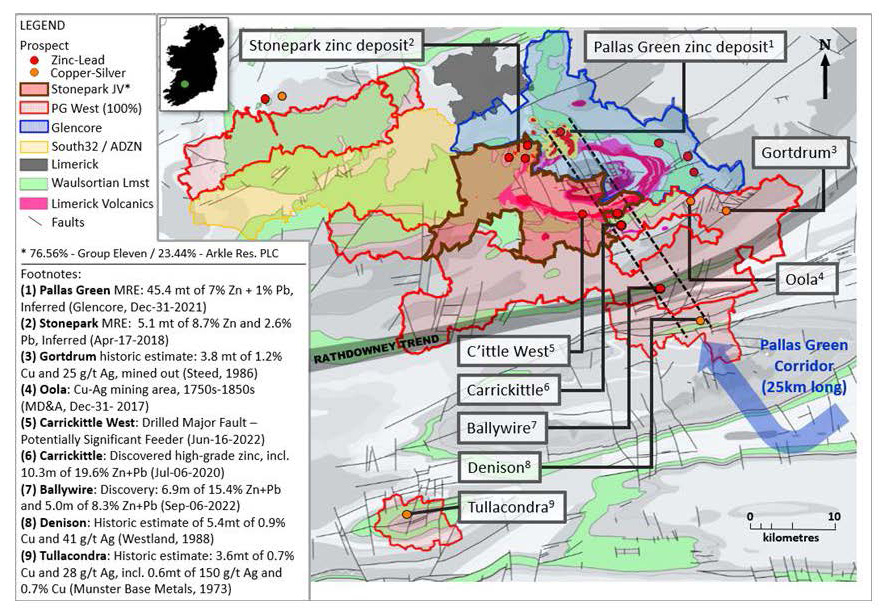 To the east, the project is contiguous with Glencore's Pallas Green Project, which hosts one of the largest undeveloped zinc deposits in the world, totalling 45.4 million tonnes grading 8% Zn+Pb (Inferred Category; Glencore's Reserve and Resource Report dated December 31, 2021). To the west, the project is contiguous with South32/Adventus' Rathkeale Project.
The most advanced asset at the project is the Stonepark deposit which hosts 5.1 million tonnes grading 11.3% Zn+Pb (Inferred Category; see report on Stonepark by SLR Consulting dated April 17, 2018). The deposit remains open to expansion and is 1-3 kilometres away from Glencore's Pallas Green zinc deposit. Future exploration will also focus on four prospects located 5-10 kilometres to the southwest of the Stonepark deposit, where historic zinc intercepts have yet to be followed up.
In June 2022, the Company announced a breakthrough in the search for yet-undiscovered faults hypothesized to be the source areas (or "feeders") of mineralization discovered to date in the Limerick region. The Company's exploration hole G11-2531-01, drilled at the Carrickittle West prospect intersected a fault structure with at least 150 metres of displacement (and associated with zinc mineralization on either side of the structure). To the Company's knowledge, this was the first large fault directly intersected in the Limerick region, strongly corroborating management's view that the Carrickittle West area has the potential to host zinc mineralization similar in style and scale to Glencore's nearby Pallas Green deposit.
Stonepark Project – Location of Carrickittle West Prospect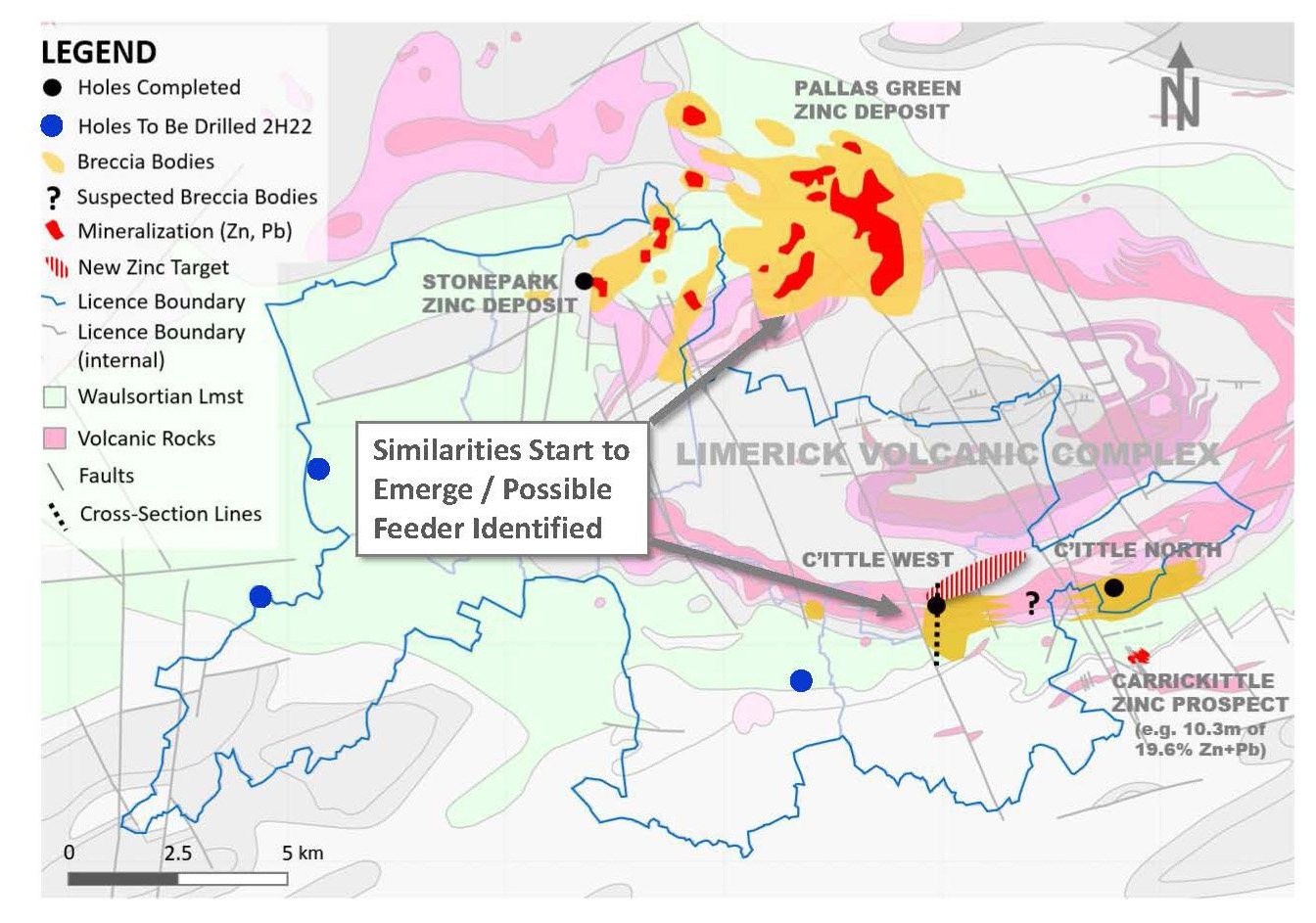 Specifically, the newly identified fault implies a new high-priority zinc target several hundred metres to the north, where the fault is hypothesized to intersect the base of the Waulsortian Limestone.
Stonepark Project – Carrickittle West Prospect (Cross Section)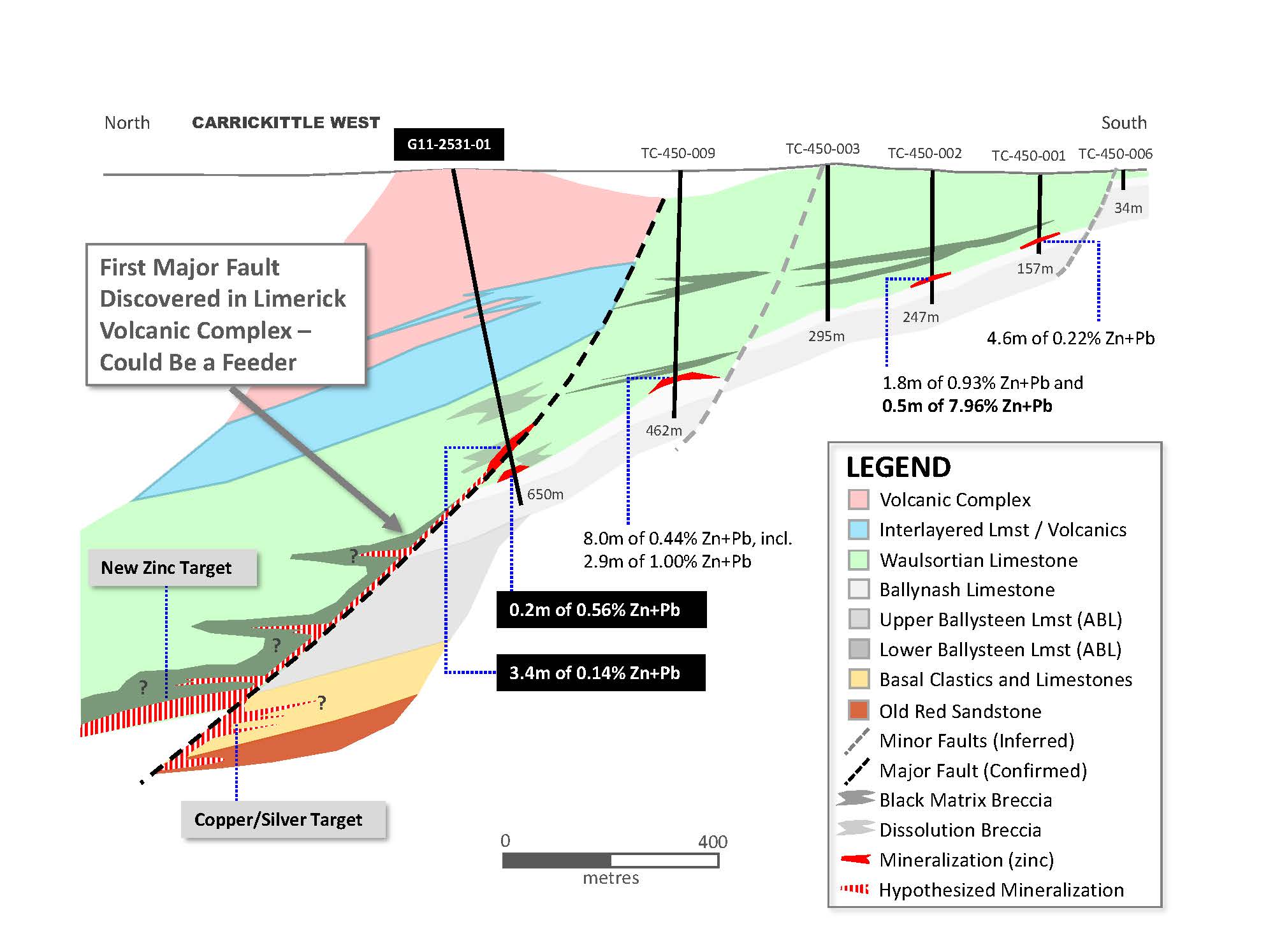 Refer to the presentation for the latest updates
3D Model of Stonepark Project Overview
Technical information in this website has been approved by Professor Garth Earls, Eur Geol, P.Geo, FSEG, geological consultant at IGS (International Geoscience Services) Limited, and independent 'Qualified Person' as defined under Canadian National Instrument 43-101.