The PG West Project (including the Tullacondra Project to the south) is located in southwest Ireland and is 100% owned by the Company. The project consists of 22 PLs (totalling over 650 square kilometres; see red outline below) contiguous with the Company's 76.56% owned Stonepark Project. Glencore's Pallas Green Project (blue outline) and South32/Adventus' Rathkeale Project (yellow shaded) are adjacent to the PG West Project from the east and west, respectively.
PG West Project – Regional Location Map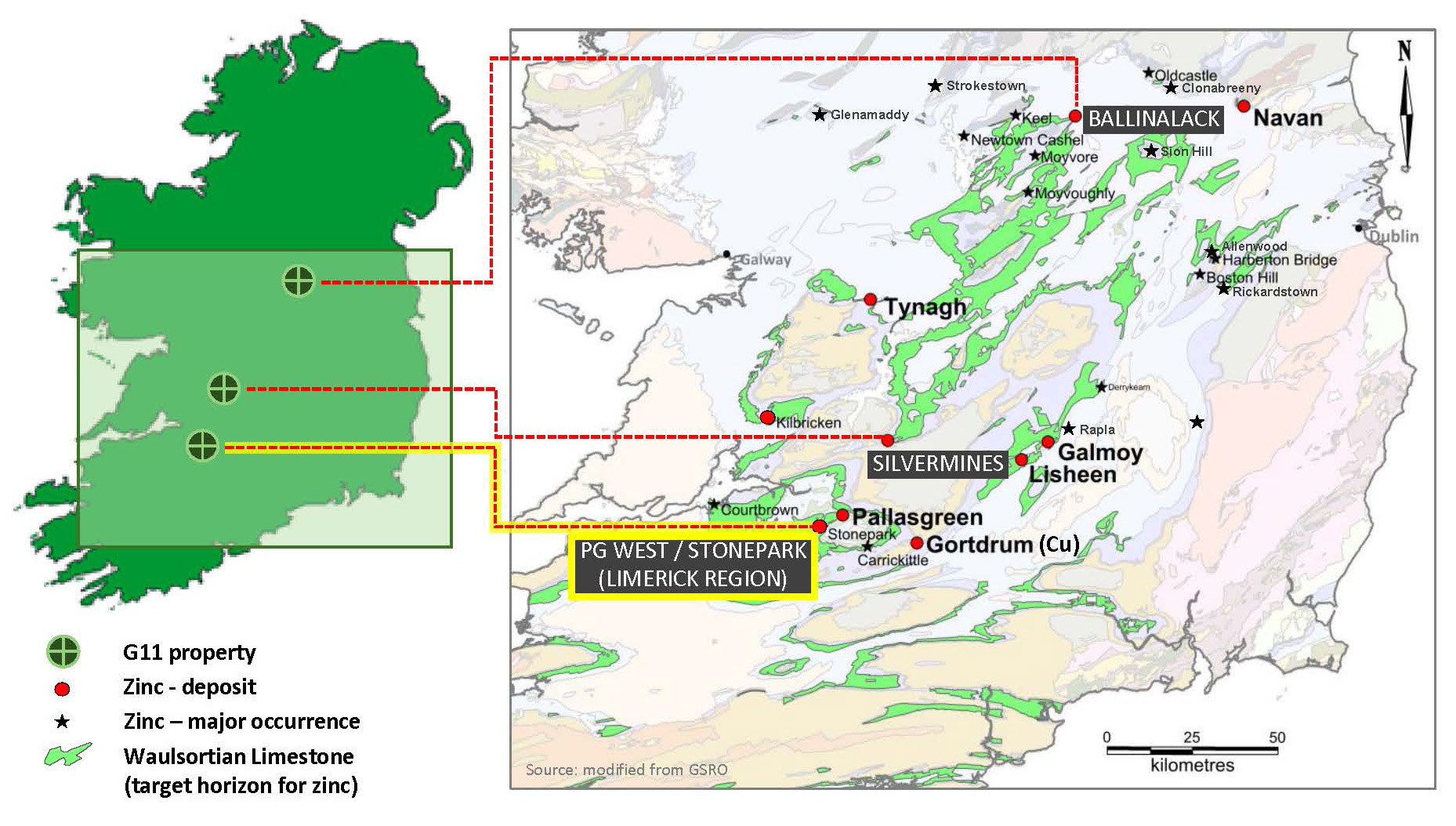 PG West Project – Limerick Region Location Map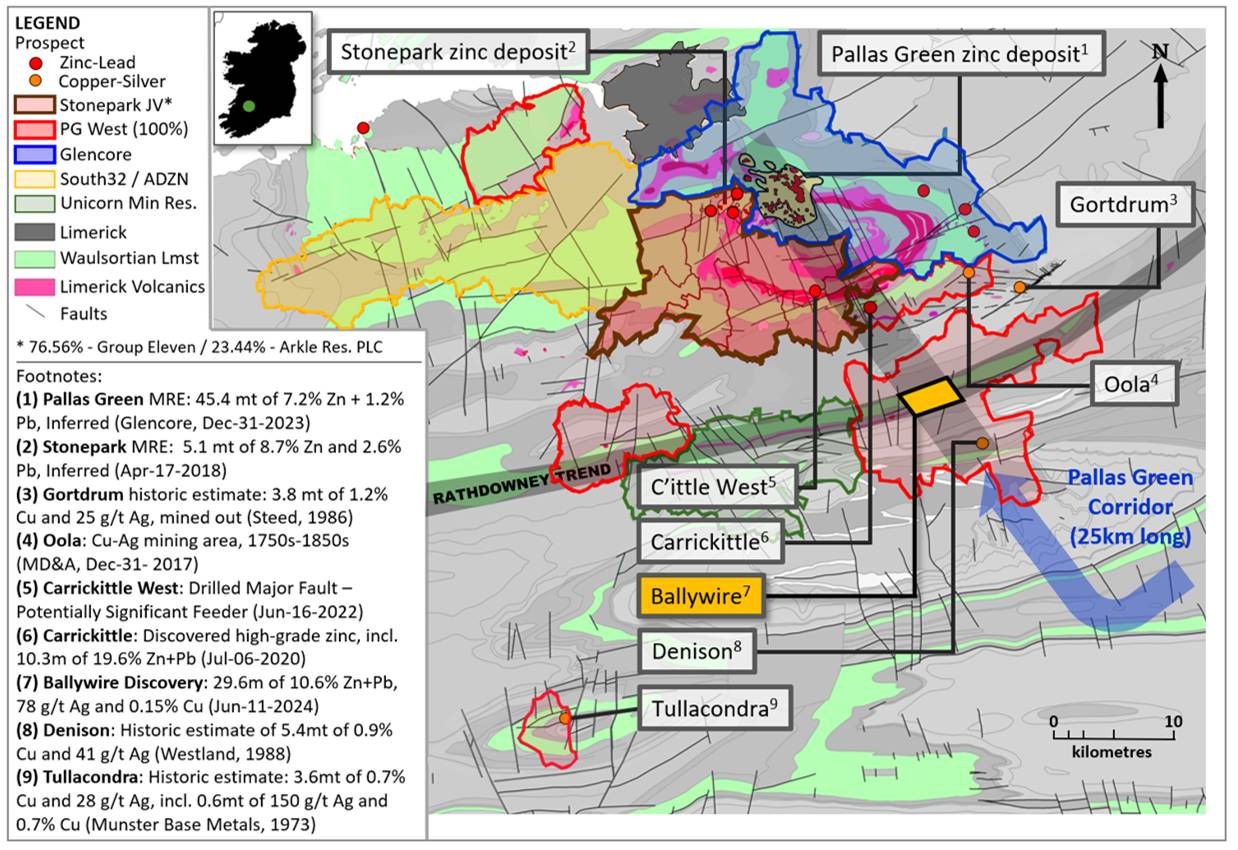 Glencore's Pallas Green deposit hosts 45.4 million tonnes grading 8% Zn+Pb (Glencore Reserves and Resource Report dated December 31, 2021), representing one of the largest undeveloped zinc deposits in the world. Group Eleven's Stonepark deposit, located 1-3 kilometres away, hosts 5.1 million tonnes grading 11.3% Zn+Pb.
On September 6, 2022, the Company announced a discovery at the Ballywire prospect located in the southeast portion of the PG West Project, at the intersection of two mineralized trends: the Pallas Green and the Rathdowney Trend. The discovery is approximately 20km southeast of Glencore's Pallas Green zinc deposit.
The discovery hole, G11-468-03 stepped out 410m from previous drilling and returned 66m of mineralization including four higher-grade zones (true width estimated to be 80-100% of intercepted width):
5.00m of 8.3% Zn+Pb (6.2% Zn and 2.1% Pb) and 107 g/t Ag (starting at 228.2m downhole), including 2.03m of 18.8% Zn+Pb (13.9% Zn and 4.9% Pb) and 227 g/t Ag
6.85m of 15.4% Zn+Pb (11.1% Zn and 4.3% Pb) and 160 g/t Ag (starting at 251.6m), including 2.05m of 40.8% Zn+Pb (30.5% Zn and 10.3% Pb) and 385 g/t Ag
1.71m of 12.2% Zn+Pb (10.3% Zn and 1.9% Pb) and 38 g/t Ag (starting at 268.9m) and
0.96m of 5.1% Zn+Pb (4.4% Zn and 0.8% Pb) and 15 g/t Ag (starting at 274.7m)
PG West Project – Ballywire Discovery Drill Hole Plan Map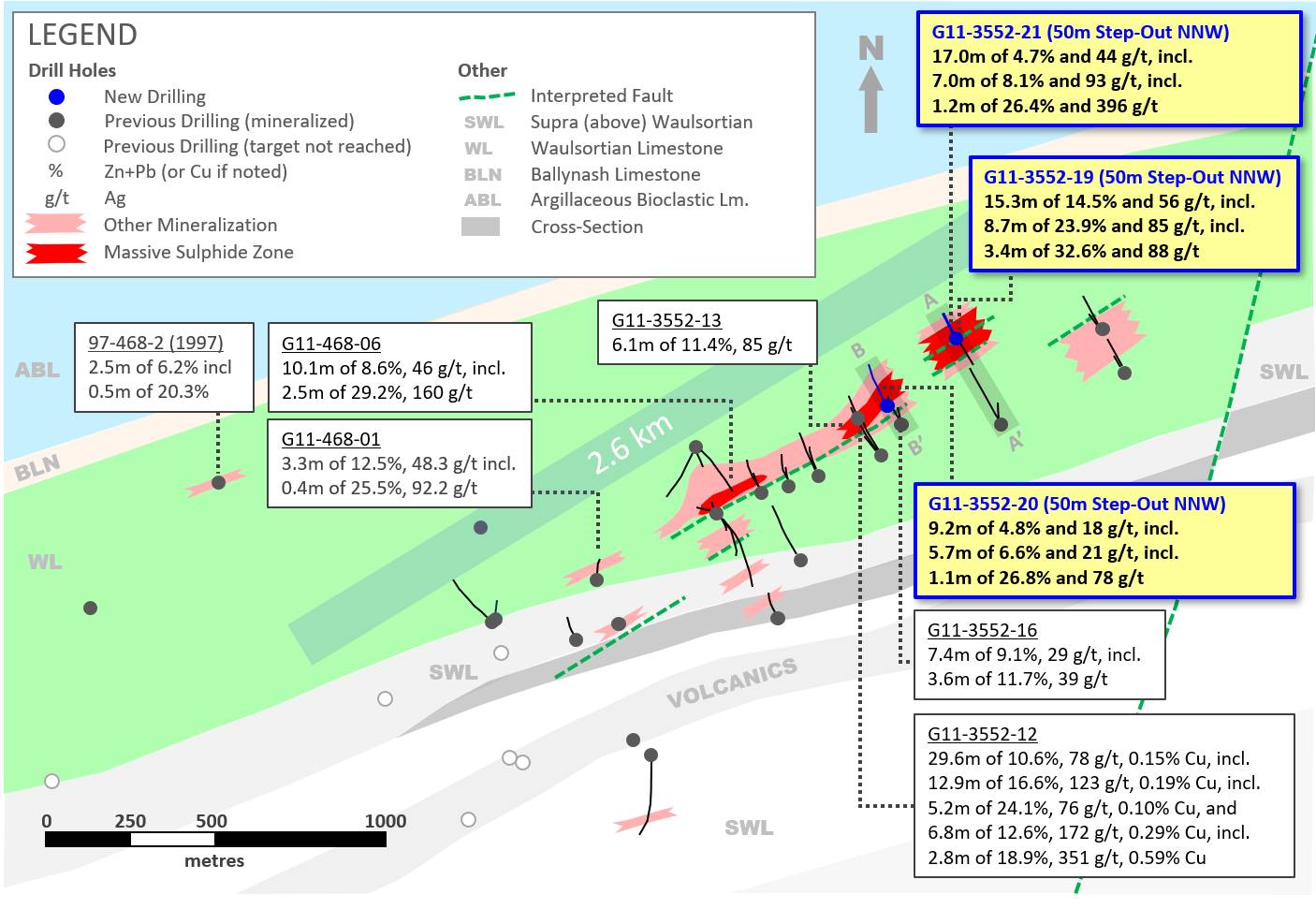 In addition to zinc, lead and silver mineralization, assays show significantly elevated germanium. For reference, germanium (Ge) trades at approx. US$31/oz, or 40% higher than silver at US$22/oz (as at November 2022). Germanium grades from the discovery hole at Ballywire largely ranged between 23 g/t Ge and 79 g/t Ge. These represent some of the highest Ge grades known in Ireland and compare favourably to grades at Ivanhoe's Kipushi zinc project in DRC (64 g/t Ge), stated by the USGS to be the most significant carbonate-hosted Zn-Pb-Cu system containing notable amounts of Ge.
Core Photos from hole G11-2840-04 at the Carrickittle Prospect in Limerick
3D Model of Stonepark Project Overview
Refer to the presentation for the latest updates
Technical information in this website has been approved by Professor Garth Earls, Eur Geol, P.Geo, FSEG, geological consultant at IGS (International Geoscience Services) Limited, and independent 'Qualified Person' as defined under Canadian National Instrument 43-101.